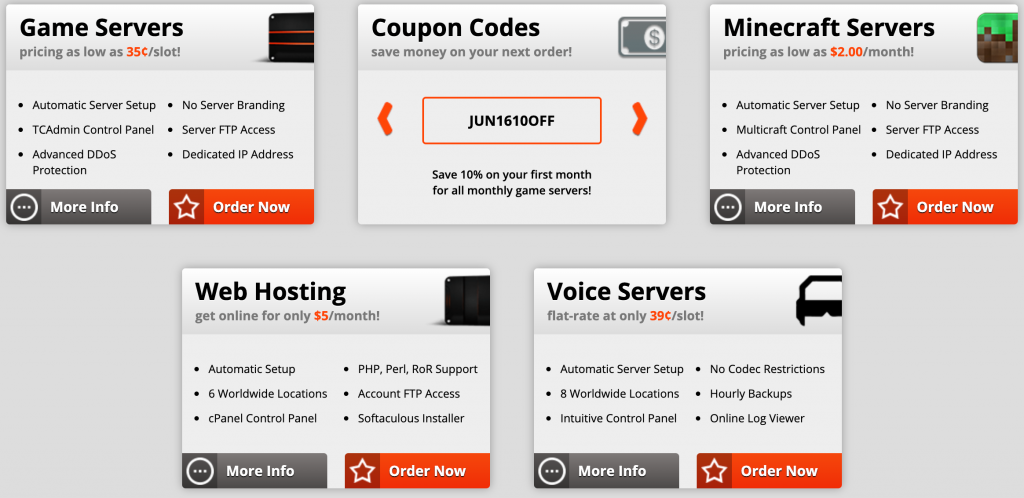 ---
Dedicated Servers
We now offer dedicated servers using the same great enterprise hardware and network that our game servers run from.
Improved Performance
We've tinkered with the performance on our Source servers and have improved performance significantly!

June Server Sale
Save 10% on the first payment for any monthly game server if you order any time now through June!
Reduced GMod Pricing
Looking for a lower-slot Garry's Mod server? We've lowered our price-per-slot for all GMod servers under 24 slots!
---
Our Mission
Our main mission at Xenon Servers is simple: provide our customers with the best all-around service for their money. We want to make sure that our customers are completely satisfied with their purchase, whether it be Garry's Mod server hosting, Minecraft server hosting, web hosting, or a voice server. We do this by using quality hardware, premium bandwidth, and employing knowledgeable and experienced staff members for support. We hope that you will enjoy our services as much as we enjoy offering them.
Why Us?
What makes us the better choice for where to host your services?
Our Experience

We've been in business for over five years. All of our staff have experience with game communities and we can relate to the issues that you may face.
Our Network

We've put a large amount of effort into selecting providers in order to provide you a great connection while also allowing us to filter most of the attacks we see today.

Our Hardware

We've chosen our hardware specifically to run our services well. We've honed our hardware selection over time to get a good balance of stability and performance.
Our Staff

Our staff's main job is to ensure that our customers are satisfied. We aim to resolve every inquiry as quickly as we can without compromising your satisfaction.

---
Customer Reviews
What do our customers think of our service?
I've been with Xenon Servers for 3 and a half years now and it's been amazing! I have a couple of Minecraft servers and a GMod server with them. I've referred them to my friends and family. Their service has been great throughout the years and I'm planning to stay for years to come!

– Ali H., Realistic Roleplay
Solid Minecraft server hosting! Xenon has provided hosting for my Minecraft servers for almost a year and I couldn't be happier with their dedication and hard work! Their reliable DDOS protection and quick ticket turn-arounds have been a key element in the success of my Twitch channel. I look forward to future business with Xenon Servers!

– Lodeclaw, Speed-Build League
I've been with Xenon Servers for a while now and they have provided quality service and customer support that writes back with clear and quick responses. Their protection against attacks is top-notch, I've tried other game server hosting companies in the past, but Xenon Servers is the definitive best. Absolutely professional.

– ManiaKnight, Citadel Gaming